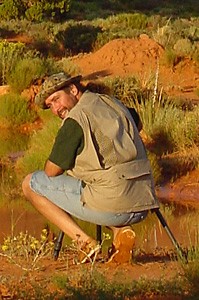 Rudy Merz was born 1963 in Germany. He doesn't recognize himself to be a photographer. He always wanted to be and considers himself to be an artist.
Photography is painting with light, he says. But, as a matter of fact, photography was always a part of his life. At age 15, he went through a 3-year apprenticeship at a professional photo lab. In the German Airforce, he was responsible for radar prediction, a process involving very special photographic skills. And his camera was always with him. Preserving the light of lost moments on film.
Then he got hooked on computers and started a career as a software developer, which, ultimately, brought him to America. Stunned by the beauty of nature, he abandoned his computer business to concentrate on what is most important to him: To capture the rays of the early morning sun and whatever they may illuminate.
Since that day on, he has traveled most of the continental U.S. and a lot of Europe in order to find, see and experience the beauty and tranquility of our natural resources.